Workers' Compensation Lawyers in York
Every year, thousands of American workers are killed while involved in job-related activities, and many more thousands are hurt or become ill, while on the job.  Workers' compensation laws are in place to protect the injured worker via benefits that can range from permanent-injury compensations to medical expense coverage, death benefits, and so much more.
Death benefits are in place to ensure spouses, children, and dependent parents can live their lives as normally as possible.  Whether your claim involves an injury or death, it's critical to know what your next step is regarding your rights within your workers' compensation claim – enter Dale E. Anstine Workers' Compensation Attorneys!
As workers' compensation lawyers, we serve workers in York and beyond, and we address accident-related injuries involving construction, factory work, healthcare professions, policing, firefighting, and so much more – we handle all occupations and industries.
Injuries on the job can happen when a work is traveling in a company-owned vehicle.  Additionally, workers' compensation can cover occupational illnesses, such as COPD and asbestosis exposure, as well as repetitive-stress injuries generated by continual carrying, bending, lifting, repeated fine-motor activities, etc.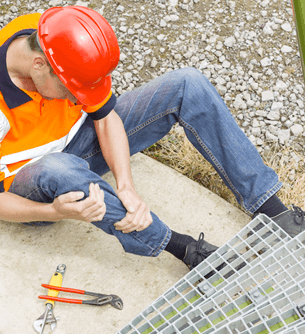 Beware – Your Benefits Could Be Diminished or Denied!
Seeking workers'-compensation benefits is a very complex and methodical process.  To make it even more challenging, some employers and/or insurance companies will attempt to thwart an injured person's legal right to pursue damages or will attempt to diminish the benefits that an injured worker is legally entitled to receive.
The reason for this is simple:  employers don't want their workers'-compensation insurance premiums to increase, and insurance companies don't want their profits to decrease.  Our workers'-compensation lawyers will never allow our York clients to be dismissed by any entity, in any way, at any time, for any reason!
Protecting Our Clients is Job #1
Our lawyer team is assertive, authoritative, and precision-driven.  Our York clients place their trust in our commitment to ensure the best possible outcomes are realized.
We Thoroughly Pursue Clients' Benefits – Workers' compensation benefits include lost wages, paid medical expenses, disability benefits, funeral costs, and more.  Our lawyers will work with the workers' compensation carrier and/or the attorney representing one's employer.  If a lawsuit must be filed, we will initiate that proceeding.
Also, there are times when a third-party claim is pursued.  If a third party's negligence contributed to an injury or death, two causes of action can be pursued – a workers' compensation claim and a third-party claim.  A third-party claim would include an entity other than one's employer or a co-worker.
We Passionately Protect Clients' Rights – As mentioned, some employers and insurance companies will attempt to hinder a worker's entitled recoveries.  The following is only a sampling of red flags one should be aware of after a workers' compensation claim has been filed:
Your employer states you were not injured on the job
Your employer or insurance company encourages you to make a recorded statement
Your benefits have been denied or seem to be delayed by the insurance company
Your medical bills are unpaid
Your workers' compensation benefits began but have suddenly ceased
You are instructed, by the workers' compensation insurer, to use their physician even though your current doctor has started your treatment
The legal intricacies involved in workers' compensation claims can involve a myriad of twists and turns that only highly skilled lawyers can fully and effectively address.  If you have concerns about paying medical bills, keeping your current job position, and are fearing where your financial future is headed, seeking a powerhouse legal team is of critical importance.
You may be suffering from back or spinal cord injuries, the loss of a body part, scarring, a head or brain injury, vision or hearing loss, or broken bones.  On the other hand, you might be dealing with an occupational-related disease or the effects of having been exposed to toxic liquids or gases.  No matter what your injury might entail, our workers' compensation lawyers in York will fight for every penny of monetary recoveries that are commensurate with the injuries involved!
Our Commitment = Your Assurance
What do York workers want when dealing with their work-related injury claims?  They want workers' compensation lawyers who possess decades of experience, dedication, and tenacity that make the difference between maximized recoveries and those that are severely reduced.
Our York clients benefit from our:
Experience – We offer 40+ years of insight and fine-tuned strategies regarding workers' compensation cases. When fighting for maximized recoveries, there is no substitute for experience!
Recognition – We are a proud member of the Million Dollar Advocates Forum. This type of acknowledgment is limited to attorneys who have won million and multimillion-dollar verdicts and settlements.  Less than 1% of US lawyers are members.
Skill – When determining the monetary value of any work-related injury, we utilize our experiences with similar cases and review case law on similar types of injuries. Our lawyers present the total damages involved in a claim and, when applicable, we pursue damages that are economic, non-economic, as well as punitive.
Free Consultations – Our law firm makes legal representation a reality for everyone – don't assume you can't afford a lawyer!  If we accept your case, we collect no lawyers' fees unless we win!  Our contingency-fee structure is based on receiving a percentage of the recovery.
Time is Limited – Call Our Team, Today!
Don't jeopardize the compensation you deserve – there are time limits that dictate one's right to pursue damages. York workers can connect with our team by: